This post and the photos within it may contain affiliate links. If you purchase something through the link, I may receive a commission at no extra charge to you.
Astral projection can be a remarkable, surreal, and life-changing experience.
But, let's face it – it can also be a little bit scary, especially if you don't know what to expect.
Keep reading to learn about some of the most common fears, along with some special tips that will help you eliminate your worries and astral project in comfort:
Exhaustion
Demonic possession
Getting lost or "stuck" in the astral world
Unable to go back to the real world
Being paralyzed
Difficulties of breath
Dying while you project
Meeting negative entities
Final Tips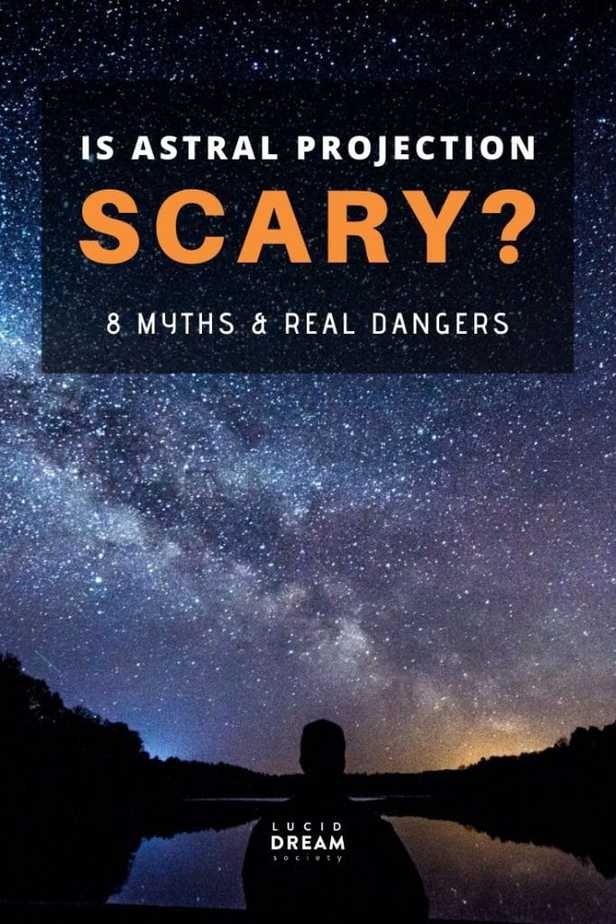 1. Exhaustion
There's no doubt about it – 
Astral projection can be physically exhausting, even if your physical body is merely lying still. 
If you're not mentally prepared, then the tiring effects of an Out of Body Experience (OBE) can catch you off guard.
However, it's not always exhausting. Sometimes you can find yourself feeling energetic, inspired, and full of life.
But, it's equally important to allow your body and mind to rest and recover should you suffer from any symptoms of fatigue.
You're embarking on a spiritual journey that involves tapping into levels of consciousness that can leave you worn out and feeling a little depressed.
2. Demonic possession
One of the scariest myths is that you could encounter evil or demonic spirits during your journey, or that your body is open to possession while your spirit is off exploring the astral plane.
Before you fret, it's essential to know that there are no documented cases of demonic possession during astral projection.
It's thought that the "higher levels" of the astral world are where the positive and good-natured entities exist.
And, the darker entities exist along, the lower levels.
If you want to rise to the higher levels during astral projection, then it's thought that you need to carry yourself positively throughout your day-to-day life.
If you're pessimistic and ill-natured in life, then it will be difficult to ascend beyond the lower levels during an OBE.
Be positive in life, and you'll encounter positive experiences in the astral world.
Keep your intentions clear and your projection upwards.
3. Getting lost or "stuck" in the astral world
What happens if you get lost along the way, and you're trapped in the astral plane?
After all, if you're inexperienced in astral projection, then it's undoubtedly easy to become lost or disorientated along the way?
Just because you find yourself in a strange or unfamiliar place doesn't mean your doomed to stay there because there's always your silver chord.
What is this?
A silver cord is attaching your spirit body to your physical body.
Therefore, no matter where you go or how far you venture into the astral world, you have a path back to the real world.
Yes, you can get lost along the way, but you'll never be "stuck."
Another problem, though, can be an obsession.
Astral projection can be a mind-blowing experience.
Remember to ground yourself in reality. If you become obsessed with it, you may want to do it all the time.
While you won't get stuck in the astral plane, other areas of your life could suffer, although this is the same for any obsession.
4. Unable to go back to the real world
What if you leave your physical body and you can't return? 
Is that even possible?
While it's a very reasonable fear, experienced astral projectors will confirm that it is effortless to return to your body.
Every time you go to sleep at night, you can have the most vivid and wildest dreams. But, you still wake up to find yourself in bed the following morning.
The same goes for astral projection.
When having an OBE, anytime you feel lost, uncomfortable or suddenly feel the need to return, you can try:
Thinking about your physical body

To start to sense the feelings of your physical body
Focusing on moving your body. Wiggle your toes and fingers and make more significant movements as you get more control over your body.
In reality, you may find it challenging to stay in the astral plane. During an OBE, most of us return to the real world far sooner than we would have wished.
5. Being paralyzed
If you're concerned about becoming paralyzed during an OBE, then it helps to know a thing or two about sleep paralysis.
This can initially be quite a shock, but it's nothing to worry about.
It occurs when someone moves between different stages of wakefulness and sleep.
Imagine that you're vividly dreaming, and all of a sudden, you wake up.
Even though your mind has awoken, your body may take a few seconds to wake up, and during these brief moments, it can feel like the body is paralyzed.
Sleep paralysis, while it may seem scary, is a good thing. It's a natural protection mechanism.
It protects you from getting up, acting out your dreams, and potentially causing yourself (or someone else) harm. 
When it happens, try and fully relax. If you want to wake up, try to move a small part of your body – this will wake up, and you will be able to move as normal.
6. Difficulties of breath
Some first-time travelers report difficulty breathing at the time of separation.
This is understandable when you think about what's happening.
The brain has a lot to process during separation.
Mainly if you're not used to astral projection, or you have anxieties, it can be easy to experience uncomfortable feelings that lead to panic.
Plus, the difficulty in breathing is due to the body's natural reaction to sleep paralysis.
Practicing a few minutes of meditation each day can help you get more control over your breathing.
It's a lot like swimming. If you're not used to being in the water, then panicking will make things more difficult for you. If, on the other hand, you relax your body, then you'll naturally find yourself floating and able to breathe with ease.
Another thing you can try is breathing through your nose rather than your mouth.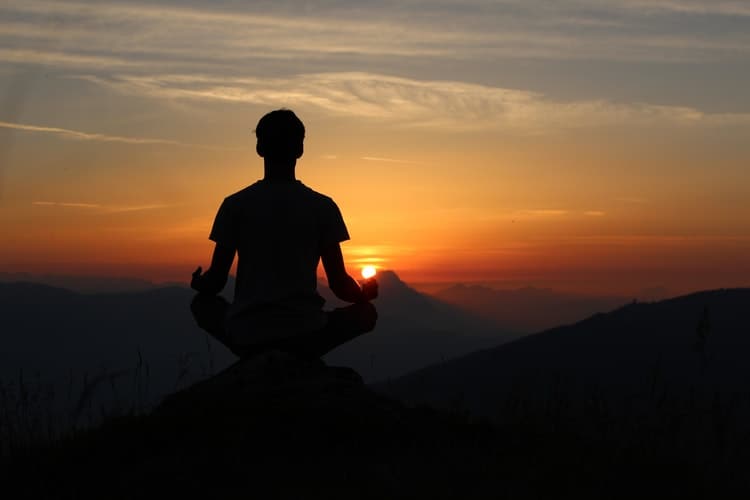 When we lucid dream, we are being conscious in the dream state. Being...
Read more
7. Dying while you project
Dying while you're in the astral realm is a common fear amongst would-be astral projectors.
But don't worry. As with dreams, if you die in your dream, you don't die in real life. You simply wake up.
The same is true for astral projection.
You will not die because you are astral projecting.
Obviously, if you suffer from a heart attack or some other form of non-related bodily failure during an OBE, then yes, you would die while you project.
Having an OBE can't protect you from the immediate perils of the real world.
8. Meeting negative entities
Negative entities do exist in the astral plane.
However, it's in the lower levels of the astral plane where these negative entities can be found.
It's believed that some spirits can be deceptive and try to take advantage of you. These should be avoided at all costs.
Remember that you have control over your own experience. If a specific negative entity tries to engage you, all you have to do is say "no." and leave.
Don't waste your time and energy there, and concentrate on ascending to higher planes where only positive entities exist.
9. Final Tips
With so many fears, you may be wondering if you would be better off, not astral projecting.
Before you start to fret, here are some top tips to ensure your Out of Body Experiences are safe and free from fear:
Remember your silver chord
That connection is always there, keeping your physical body and spirit body linked. No-one can cut it.
If at any time you want to get out of there, all you need to do is:
express a firm intention and will to leave the place, or return to your physical body
You're the one that shapes your experience in the astral world
If you let your fears overcome you, then you're more likely to have a not-so-pleasant experience. If, on the other hand, you remain positive, then your Out of Body Experience will be a pleasant one.
Once in the astral dimension, you are in control.
As long as you remember that you are the one that controls your experience, there is nothing and nobody that can harm you.
Be positive and keep this one thing in mind at all times.
What is your biggest fear when it comes to astral projection?
Feel free to leave a comment below and check out our other informative articles on astral projection, including: