This post and the photos within it may contain affiliate links. If you purchase something through the link, I may receive a commission at no extra charge to you.
Do you want to discover your dreams meaning easily?
Follow this step-by-step guide and understand the meaning of any dream. 
You will learn how to make a connection between your dream symbols, which will help you to discover the meaning of non-lucid or lucid dreams.
We will also explain the meaning behind lucid dreams, and what are the benefits of understanding the meaning of your dreams!
So, are you curious how to figure out your dreams and your dream symbols? Then let's begin! In short, we will go through: 
Lucid dream meaning: What is a lucid dream?

Dream meanings guide: Discover the meaning of lucid or non-lucid dreams

STEP-BY-STEP guide
Infographic with all of the steps
FREE audiobook for additional help

Dream meanings: FAQ

How we analyze our dreams incorrectly (a common mistake)
Why do we dream?
What are the BENEFITS of understanding the meaning of your dreams?
1. Lucid dream meaning: What is a lucid dream?
First let's define what is a lucid dream.
Lucid dream is a dream, in which you are AWARE and you KNOW that you are dreaming. 
Experiencing a lucid dream will allow you to have more vivid and realistic dreams. You will be able to actively watch and understand the meaning of your dreams.
In short, lucid dreams will give you the opportunity to observe your subconscious mind more than ever.
You can experience a lucid dream spontaneously, or induced. Plus, you can naturally have some control over the dream.
(In the end, you will find a selection of lucid dream techniques for beginners or more advanced lucid dreamers!)
2. Dream meanings guide: Discover the meaning of lucid or non-lucid dreams
The basis of the meaning of your dreams is to identify important dream symbols. Then, to translate their true meaning in dreams.
Since the unconscious mind works symbolically, this is exactly how dream analysis works too.
You should start with:
Step 1: Improve your dream recall
Even if you don't remember your dreams very good at the beginning, you will get better!
2 – Our awake mind usually works logical and rational.
However, the dreaming mind is not.
Oftentimes, dreams are not having any logical plot, whatsoever, they are overlapping, or simply being extremely weird.
Because of that, is good if you write down any fragments or images that appear to your mind, instead of writing down a whole story.
Plus, the specific sequence is less important.
3 – Furthermore, don't think you are somehow different, and you don't dream.
Everybody dreams, unless they suffer from a specific condition.
Just give it some time, and you will improve your dream recall within a few weeks! Or follow this guide on how to improve your dream recall fast!
What you need to do is to spend the first few minutes of your mornings, of writing all the details about your last dream.
Try to make something like an overview:
write a dream title (quite important!)
location
with who were you
how did it make you feel
how do you feel now about this dream
draw it (doesn't have to be as good as a Picasso's drawing)
Afterward, you are going to go DEEPER in some of these points.
Tip #1:
The memories of dreams tend to slip away quite fast right after we get up of the bed.
So, be sure to do it as soon as you wake up. Otherwise, you risk of forgetting most of the dream, or even everything.
Tip #2:
Write anything, even the most blurred memory.
However, if you cannot remember absolutely anything, just write "no dreams recalled".
Tip #3:
See an example of how to create a page of your dream journal.
This should be a more efficient and fun way to keep it up.
After all, not everybody is having a lot of time, writing each morning pages after pages about their bizarre dreams.
*leave as many rolls as you think you will need for each section*
Step 2: Identify dream symbols
Have a place in your dream journal, where you can keep an eye on recurring dream symbols.
A quick reminder: What is a dream symbol?

A dream symbol is an object, that appears often in your dreams.
It has the power to communicate through your unconscious mind, to invokes feelings or ideas.
Frequently it has much more profound and deeper value.
Often, these symbols can leave you confused and wondering what that dream was all about. 
Plus, they are very good lucidity triggers, so if your goal is to have lucid dreams, dream symbols are a great start!
Most importantly, dream symbols are the tools, through which your unconscious mind is trying to send you a message.
Furthermore, they are quite meaningful.
The dream journal will allow you to follow and understand the meaning behind your dream symbols.
A few examples:
Unable to find a TOILET: searching for a toilet tells you are looking for some way to express someone what you really need.
A car: it indicates you are thinking about the path that you are currently taking through life.
Unnoticed door: might symbolizes that you have the chance to move into an interesting new opportunity in your daily life.
An opening door: represents a skill that you were passionate about in the past but had to step off from for a while.
Ex-lover: usually appears to warn you not to repeat past relationship patterns with your current partner.
Defeated by a vermin: little difficulties and fears seem to be rising up in your waking life.
It is not required, but you can always get help with figuring out your dream symbols and meaning through some comprehensive dream dictionaries.
Check some of them here:
Step 3: The associations and location of your dream scenarios
In the beginning, you will mention in your dream journal where was the location of your dream, but here, you will start going a bit deeper.
Question yourself about the dream scene.
This will help you to start pulling apart the dream.
You should keep another page of your dream journal, which is going to be exactly for that purpose.
You should review your most intense dreams and consider what your conscious mind associated with them.
Example of questions:
Where does the dream take place?
Have you been there before?
What does it make you think of?
Were there any significant objects in the dream?
What did they mean to you?
Is it somewhere you fear?
Does the place cause you stress in real life?
Is it your comfort zone?
Did something bad happen to you in a setting like this?
Is the setting similar to that of a happy time in your life?
Is it an unusual location/place?
Tip: You may also experience "day residue " – it relates to any symbols or objects in your dreams if came into contact with them during the previous day.
Step 4: The underlying emotions
Very often, the emotions you feel in your dreams might be connected to real emotions that you feel in your daily life.
Nevertheless, in some other cases, the circumstances might differ from what is happening in reality.
On the surface, the dream might be not relatable to your waking life.
However, if you focus on how it makes you feel, you will be able to find the way.
You should identify what are the emotions you felt, by asking yourself:
How did this dream leave me feeling?
When have I recently felt that emotion in my waking life?
How do I feel about this dream now?
Was I scared, angry, happy, remorseful…?
How comfortable am I feeling with these feelings?
Remember that YOU are the expert when it comes to your own psyche. Trust and explore your own inner mind and feelings.
Step 5: Ask yourself what the dream is trying to tell you
You should interpret your dreams with the viewpoint of:
What is this dream trying to tell me?
What is lacking in my waking life?
What is the purpose of this dream, what is trying to show me?
What is this dream trying to rebalance?
Step 6: The other characters in the dream
Next, you should reflect on the characters in your dream.
Think about the background with this person (or even animal) and what they might symbolize to you.
In our unconscious mind, while we dream, people and characters are often symbols of parts of ourselves.
So, basically, in your dreams – you are all of the characters.
Furthermore, the people in your dream symbolizes a part of your own psyche.
For example:
If you dream that your partner is cheating on you, that could mean that you lost confidence in your waking life.
It could reflect on your lost with some of your fundamental needs, which is making you less confident and attractive. 
Lastly, ask yourself these questions:
How did you felt about the person in the dream?
How do you feel in real life about him/her?
Were you fighting?
Were they trying to help you?
Were they just in the background?
Did you recently have a fight with the person?
Does the person represent something to you?
(optional)
Step 7: Dream dictionary
Some experts claim that dream dictionaries aren't that useful since the same symbol can mean different things to different people.
However, you might want to use a dream dictionary for more insight or to look for additional interpretations.
Even if it might be better to focus on how you felt in the dream, some people might find it easier and useful to a dream dictionary.
The truth is that generally, we all make unconsciously the same or at least similar conclusions about life.
In addition, even though only the dreamers can truly know the meaning of their own dream, people from all over the world report very similar dream patterns.
And that's regardless of the country or culture, with remarkable consistency.
That's why a dream dictionary comes in quite helpful.
There are dream dictionaries, that are extremely comprehensive.
They provide thousands of dream symbols and definitions from which you can base your personal dream interpretations.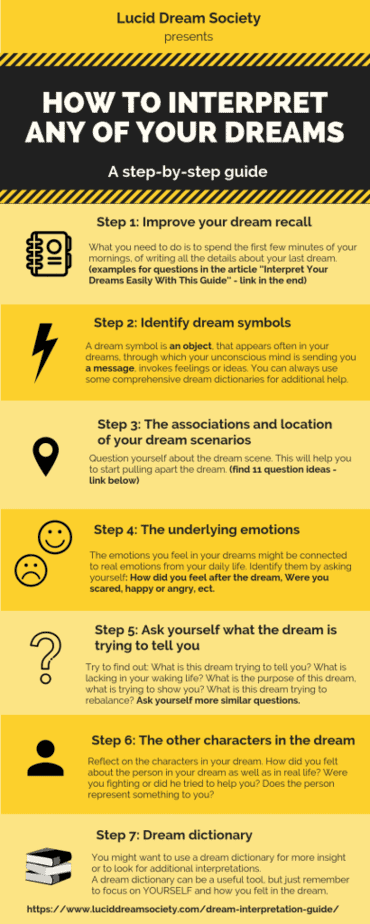 It will help you to unlock the unseen realm and to understand your dreams and visions. 
The book contains:
 extensive Christian dream dictionary (with Scripture support)
essential dictionary of names and places
a crucial chapter on counterfeit interpretations by the occult
101 interpreted dreams providing reliable evidence
interesting metaphor dictionary
You can also give it a try and listen to it FOR FREE with Audiobook Trial:
How we analyze our dreams incorrectly?
Imagine that you have either a nightmare about falling down from a very high building.
Or a simple dream about flying. You might think that you are afraid of heights or you wish to fly?
Wrong! 
We tend to interpret those dreams as literal, which is incorrect.
A falling dream might just be about your fear that you're losing control in a part of your life such as your relationship. 
A flying dream, however, may be about your desire to free yourself from that relationship!
Usually, it is much different than it might look!
The fundamental part of dream interpretation is not to take things literally.
For example, dreaming about death does not mean you are going to die. Instead, it may represent the end of a part of your life.
Why do we dream?
There are various assumptions about why we dream, but no one knows the answer for sure.
Two of the most known psychiatrists in history – Sigmund Freud and Carl Jung, had interesting theories about dreaming.
Theory I
Freud believed that our dreams are a form of wish fulfillment.
He proposed that dreams represented unconscious desires, thoughts, and motivations.
He believed that studying dreams provided the easiest road to understanding of the unconscious activities of the mind.
Theory II
Jung suggested that dreams were emotions of unsolved issues.
He believed they revealed which emotional problems, worries, and fears we needed to be aware of.
The idea was that certain dreams tell us which parts of our character, or personality, are out of balance.
That can then help us work towards psychological growth and integration.
Theory III
Another clinical psychotherapist named Jeffrey Sumber, who studied global dream mythology and dream interpretation suggested:
"Dreaming is non-essential when it comes to survival as a body but is essential with regard to our development and evolution as metaphysical beings,".
He continues "Dreams are the bridge that allows movement back and forth between what we think we know and what we really know."
Theory IV
Lastly, some other researchers concluded that dreams are necessary for mental, emotional, and physical health.
Multiple studies have shown the value of dreams to our health and well-being.
What are the benefits of understanding the meaning of your dreams?
The meaning of your own dreams is essential for many reasons.
We will go going a few, just so I can give you an idea of how powerful it can be.
Connect to your inner self
By dream interpretation, you can communicate with the unconscious and be able to learn about your deepest desires, fears, etc.
Plus, you can get answers to all of your questions.
Increase your creativity
The more you learn about your dreams the more aware you will be of the awesome creativity and imagination of your own dreaming mind.
Your subconscious interacts with you in its own way through images, emotions, honest messages and concepts.
Your clarity will increase once you start to understand your dream messages.
Identify your unconscious fears and desires
By being aware of your unconscious fears and desires, you will be able to find answers to them, as well as to grow and improve as a person.
Discover solutions for your daily life
It can also help you to find many things that have the potential to help you with discovering solutions for your work, relationships, friendships, daily life and everything else that interests you.
Insight and Guidance
Dream analysis can give insight, oftentimes with extremely powerful information that only you would understand.
Additionally, your dream messages can be incredible guidance to help you on your life journey whether you feel doubtful or loss.
Find an explanation

Your mind consumes unimaginable amounts of information that frequently play out in our dreams.
By investigating your dreams you can be warned to something important in your conscious life that needs your attention.
Plus you can find explanations about meaningful events and aspects of your life.
How to become a lucid dreamer?
How to improve my lucid dream skills:
Intermediates & more advanced: