This post and the photos within it may contain affiliate links. If you purchase something through the link, I may receive a commission at no extra charge to you.
What causes a falling dream, and why do I dream of falling then wake up?
It can be a scary and an odd sensation – there's no doubt about it.
If you want to know why you are falling in dreams then waking up, today is your lucky day. 
We are going to explore in depth the following questions:
What causes a falling dream?
Falling dreams – Scientific explanation
Why do we fall in dreams and wake up?  
What happens if you hit the ground in a falling dream?
Dream of someone else falling
What does it mean if you dream of falling?
What do dreams about falling from the sky mean?
Conclusion
1. What causes a falling dream?
There are two key causes of falling in dreams.
1) Lifestyle side effect
The first has a slightly more scientific explanation. Here, it's suggested that the feeling of falling is a side effect of your lifestyle.
Or because of the day you've had. Especially if you're anxious.
But, more details on this very shortly.
2) A message from the subconsciousness
The other explanation is that you're receiving an important message from your subconscious.
Falling is a very prolific symbol in dreams.
The experience can shock you and affect your waking day.
Whether it's real or perceived, falling in your dream usually represents a feeling of being overwhelmed.
Maybe you're experiencing a loss of control in one or more areas of your life. It could be emotionally, or physically.
Are you worried about failure? It can even be something that you haven't addressed in life. Is something big approaching?
Don't panic yet.
Rather than assuming that something bad is about to happen, it could be a great opportunity to address your fears. Face them head-on by coming up with a wise solution.
2. Falling dreams – Scientific explanation
The science of falling dreams can be explained by a scientific phenomenon called a hypnic jerk.
What on Earth is a hypnic jerk you ask yourself?
A hypnic jerk quite literally "jerks" you out of sleep and into a wakeful state.
It usually happens in the transition state, as you go from being awake and before you enter deep sleep.
As you begin to drift off, your muscles relax. However, the brain misinterprets this feeling of relaxation and it may get confused, thinking that the body is falling.
That's when a twitch or jerk is experienced in the muscles.
Usual causes may include:
1) Caffeine
One of the most common causes is too much caffeine.
So, if you're experiencing plenty of uncomfortable hypnic jerks, then it may be a good idea to dial down on the coffee.
Perhaps stick to one or two in the morning before switching to decaf.
2) Intense exercising/anxiety
Other suspected causes include intense exercise, anxiety, and stress.
If you go to bed stressed then try to take a few minutes of relaxation time. Meditation can definitely help.
3) Discomfort in the bed
As for discomfort, it may be worthwhile investing in a new mattress.
Or a new pillow. Health experts recommend sleeping on your side with a pillow between your knees.
Never underestimate the importance of a good night's sleep. Both for health, and wellbeing.
3. Why do we fall in dreams and wake up?
In the majority of cases, falling in dreams is followed promptly by waking up.
But why?
Well, did you know that when you're born you have only two primal fears:
Fear of loud noises

A fear of falling
Every other fear is learned through experience. As a result, it makes perfect sense that you would wake up.
A natural fear of falling has quite literally been programmed into your DNA and is bound to cause a reaction. Waking up is expected.
So, what should you do if you suddenly find yourself waking up after falling?
Have you been drinking too much coffee? Have you had a particularly stressful day? Maybe you're not sleeping in your own bed? If so, it may be the annoying hypnic jerk that we talked about earlier.
If this is a regular occurrence then make sure you're comfy and relaxed before going to bed.
After all, we spend a third of our lives sleeping. You should, therefore, enjoy your sleep and dreams, right?
Whether it's a hypnic jerk that kicks in as you fall asleep or you're falling from a great height in the middle of the night – it represents a disconnect.
Mind and body aren't working in harmony.
Ultimately, your waking up has a purpose. You wake up because of a deep desire to take back control of your life.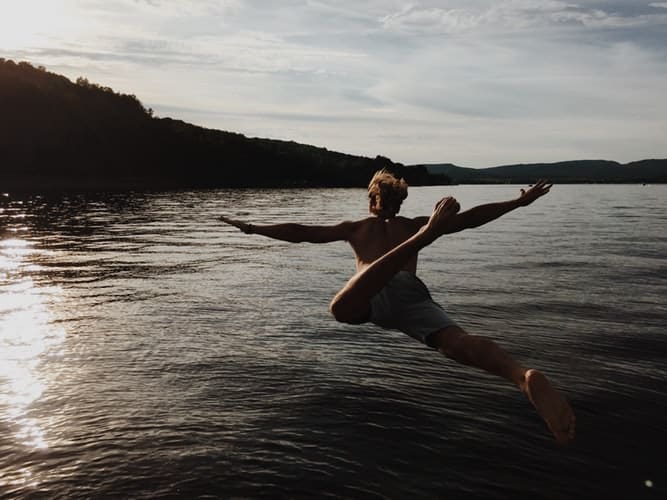 4. What happens if you hit the ground in a falling dream?
Falling in a dream and hitting the ground is a concern a lot of people have. Despite what many would lead you to believe, don't worry – 
You won't die in real life if you hit the ground in your dream.
Many people have fallen to the ground in their dreams. And lived to tell the tale!
If you never reach the ground, it could represent losing control. If you do hit the ground, it could mean you were wrong about something.
Here, you're making a stark realization in life. And it's literally just hit you.
Perhaps you made a mistake and you're coming to terms with your errors. This can represent an opportunity to learn.
Furthermore, there are times when you feel some pain after hitting the ground. More often than not, you feel fine. You can dust yourself off and get back up again.
Finally, it could also signify loss. Maybe you've hit rock bottom. If you find yourself in this position, then don't panic… After all, the only way is up!
5. Dream of someone else falling
Maybe you're not the one experiencing the fall. So, what does it mean if you're watching someone else falling in your dream?
It could be that someone very close to you is going to be going through a tough time.
Or they will be going through something major in the near future. It could be someone you're in a relationship with. Or someone else that you deeply care about.
How did you feel when you saw this person fall? Did you watch on feeling helpless?
If so, then maybe you can't control their fate. Maybe you can be there for them in their time of need.
If, on the other hand, you felt more in control of the situation, then maybe there is something you can do for this person.
A gesture, or bold action that will help them avoid their fall.
What is more, it could also be that the person falling represents something else in your own life.
In modern society, it often comes down to money. It's not uncommon to see someone falling in your dreams while in real-life you're worried about losing value on investment.
It's also possible that nothing bad is about to happen.
It's just that you're worried. These feelings can subside if you have a conversation with the person in mind.
Express your concerns and tell them you're here for them if they ever need help.
6. What does it mean if you dream of falling?
To understand what it means if you're falling in a dream, you first have to consider two things:
– How high were you falling from
– How you felt while you were falling
It usually happens after going to bed – when you first "fall" asleep.
The body relaxes. The nervous system softens. The heart rate drops. And the feeling triggers a falling dream.
The classic (and generally accepted) meaning of a falling dream is one of loss of control.
Especially if you're falling from a great height. When in freefall there is literally nothing you can do about it.
If in your dreams, you fall from a low height, then this could have a different meaning.
It can represent an obstacle or a series of tough challenges on the horizon.
7. What do dreams about falling from the sky mean?
Falling dreams can take on slightly different meanings.
And, one of the biggest factors is how high you fall from. If you dream about falling from the sky, then you need to pay close attention.
It could be that you're taking big risks. You're afraid that you've put yourself in danger. Or, you're getting far out of your comfort zone.
Now understand.
It could be your career, financial situation, social life, relationship, or anything else that is deeply meaningful to you. Everybody's cultural situation is different.
Falling from the sky can be scary. After all, you know what comes next…
However, most people wake up well before hitting the ground.
Even though it can be frightening, take comfort in one thing. Your subconscious has brought something to your attention.
Maybe it's time to re-assert your focus in real-life. It's time to build yourself that proverbial parachute.
8. Conclusion
While it may seem scary at first, experiencing a fall in your dreams can actually be a good thing.
It could be the wake-up call you needed. Let it inspire you to take positive action in your life.
Start by address all the things you've been putting off.
Take some relaxation time for yourself. Start saving money. Get a new hobby. Make new friends… Go out there and find your dream job.
Live the life you always dreamed about.