This post and the photos within it may contain affiliate links. If you purchase something through the link, I may receive a commission at no extra charge to you.
Are you wondering how to make yourself tired (easily)?
Then I've got you covered!
There is you worse feeling than being tired all day — from the moment you wake up, to when you finally settle down at home, after a long day.
That being said, let's go over the 5 "must do's" to make yourself tired and FAQ section with a few priceless and proven tricks to help you fall asleep easily.
Keep in mind that some changes will be harder to implement, and you might be hesitant to give up some of your old habits.
Yet, remember that these healthy habits are an investment to your health, energy and productivity.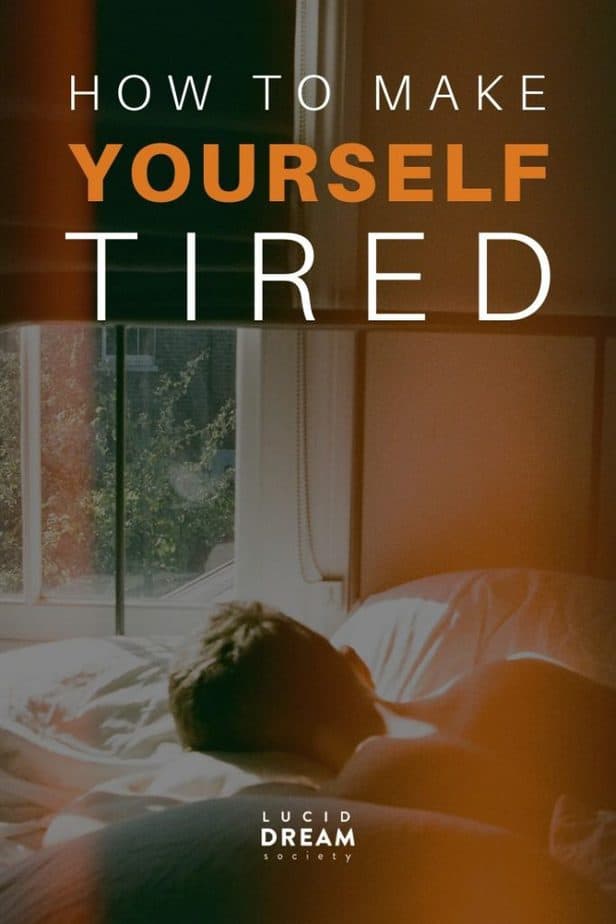 How to make yourself tired: 5 easy tips
1. Limit screen time before bed
This one looks simple, but it can make a HUGE difference.
Using our phones or watching TV is one of the biggest mistakes we can make before heading to bed, especially if you're doing this in bed (more on that later).
There are a few reasons to avoid screens before bed. Let's get into a few:
1. Watching videos, movies, or scrolling through social media, stimulates our brains, which wakes us up and keeps us awake.
This kicks our brain into gear of alertness, keeping us awake for longer.
2. Blue light (from our phones) strains our eyes and leaves imprints on our vision up to hours after the use of a phone.
This is partially avoidable by activating a blue light filter in a phone's settings (a feature on most smartphones), but even this filter can't cut out all blue light.
3. Possibly most importantly — screen time at night literally tricks our primal brain into thinking that it's day time. Our animal brain expects any light to come from the sun, meaning that it's day time.
Day time used to be our opportunity to hunt and gather
resources, so our brain releases serotonin (opposite of melatonin), which is a chemical that wakes us up!
So, long story short, light (artificial or not) wakes us up to our primal core.
The best way to avoid keeping us in a state of alertness and straining our eyes at night is to cut screentime at least an hour before bed (ideally 2 hours, though).
Setting alarms should be the only thing you're doing when trying to wind down for bed. This can be an especially difficult habit to enforce, but I promise that it will pay off.
2. Don't stay in bed when you can't sleep
It has been proven that your body and brain associate different places for different things.
For example, if you only use your dining table to eat, your mind and body will connect that table with eating. If you only use your desk for working, your brain will associate that space for work and productivity.
On the other side of the coin, your brain will also associate negative activities with particular places, depending on which actions you mostly do in that space.
So, if you spend an hour every night watching YouTube, eating snacks, and playing games, then you will subconsciously associate your bed with these unproductive activities.
Even if you aren't necessarily doing anything — rather than staring at the ceiling if your mind is restless — get out of bed.
Sit at the table, or sit on the floor and try to rest your brain outside of your sleeping environment.
PRO TIP:
Try to focus on your breathing, for 5-10 minutes. Take deep, and slow breaths. 
Ignore and don't focus on any thoughts. Consider them as clouds in the sky, just passing by.
3. Get a more comfortable bed
This one may seem obvious, but it is one of the most critical aspects of sleep that we could talk about.
Most people don't even realize how uncomfortable their bed is until they start looking around for alternative surfaces to snooze on.

If you usually wake up with pain in your back or neck, check out a local mattress store!
I've had a really good experience with Avocado Mattresses; they have a stable balance between soft and firm.
A well put-together frame is also essential for comfortability and mattress longevity.
PRO TIP:
If you can't invest in expensive, new bed right now, that's OK! If the one you have now is still okay, you can simply consider getting:
Comfortable and high quality mattress topper
Comfy memory foam pillow
Or cooling & breathable mattress protector 
* Even though these additions won't fix a very old and bad mattress, it can help for a short term.
4. Lower your core body temperature
Lowering the temperature of our bodies has been shown to help us sleep.
Everyone has had that night that they took a shower or bath and got toasty before entering their mini-coma for the night.
Most would think that this came from the heat of the water, but in reality, the amazing sleep that you experienced was from cooling down after your soak-of-choice.
This is actually a bit of a sleep hack, and it's one that most people haven't heard of.
Sleep is your superpower | Matt Walker":
In a study, participants (mostly made up of young adults) were tested on how well they slept after their body temperature was lowered before snoozing.
Scientists found that lowering the core body temperature of these participants not only helped them fall asleep faster, but it also improved the overall quality of sleep.
How was this measured?
Time spent in REM (Rapid Eye Movement) sleep, our deepest and most effective sleep for rest and recovery, was increased. REM is also where we dream the most.
How can we replicate this and implement it into our sleep routine?
Well, taking a hot shower or bath and cooling off in bed isn't a bad strategy, but that's a lot of work to fall asleep.
What we suggest:
My current technique is to get bundled up under the blankets for 5-10 minutes, gathering as much heat as I can. Then, once I feel that my body temperature is nice a toasty, I air out my blankets (allowing fresh air underneath) and leave my feet uncovered.
Our feet contribute massively to our overall core temperature.
If your feet are cold, you'll be cold. So, by cooling my feet, my overall core body temp will drop.
Usually, this works like a sleep trigger that sends me right into unconsciousness after just a few minutes.
I also like to keep my room nice and chilly at night, so I'll usually subconsciously pull my feet back under the covers as I'm on my way into dreamland.
5. Meditate before bed
Whether you believe in the spiritual benefits of meditation or not, there are many other reasons to give your mind a peaceful break, especially before bed.
I've found that getting into a stable body position, closing my eyes, and focusing on my breathing while visualizing my surroundings helps my mind and body relax.
I don't know about you guys, but after a long day of work and stress, my mind doesn't just turn off and accept that it's time to wind down.
In fact, my brain is almost more active after getting into bed.
Meditation is massive for me, and I'd suggest the same for anyone and everyone.
There are countless methods that people use to meditate, and different people will swear by each of them.
What I'd suggest:
Read a few different ways to meditate, explore some simple breathing exercises, or follow the techniques in the FAQ section, and practice the ones that sound intriguing.
Then, if you're like me, you can mix a few of them and maybe add your spin until you've found that strategy that's just right for you.
The remarkable thing about it is that there's no wrong way to meditate, as long as you're helping your mind relax.
How to make yourself tired: FAQ
How do you make yourself tired fast?
To make yourself tired FAST, you should try the Military method. The technique was designed by the U.S. Army to make sure soldiers didn't make mistakes due to grogginess. 
The technique will supposedly send you off to sleep within two minutes, and it involves muscle relaxation, breathing, and visualization.
Here's how the Military method works:
Put the lights off, and sit on your bed.

 If you're somewhere else, just try to get the most comfortable position that's available. 

Close your eyes and relax your whole face

: forehead, cheeks, tongue, and jaw. Slowly let your face muscles to naturally loosen. 

Once your face feels relaxed,

 start to pull your shoulders and arms gently. First, drop your shoulders as far down as they'll go, and then your arms. Breath slowly and deeply in and out, while you are doing this. 

With each breath, let your chest relax more

 and then let gravity relax your thighs and lower legs.

Once your body is fully relaxed,

 try to clear your mind for 10 seconds. If thoughts come naturally, let them pass – without engaging with them. 

Then, imagine a relaxing scene:

 Picture that you lying in a canoe in a calm lake, or that you are laying in a velvet hammock, gently swinging, and space around is fully black. 

In case you aren't good at visualization

, then repeat in your head the mantra, "Don't think, don't think, don't think".

Imagine the scene, or repeat the mantra

 for 10 seconds.
That's it!
The whole process should take about two minutes.
The technique is proven to work for 96% of the people who try it for 6 WEEKS.
If it doesn't work right away, don't give up, but repeat the process every night for a few weeks.  
How can I go to sleep instantly (or in about 5 minutes)?
Luckily, there are more techniques, that can help you to go to sleep, almost instantly. 
4-7-8 breathing method is one of these options.
To perform it, follow these steps:
4-7-8 breathing method:
Sit with your back straight. Place the tip of your tongue against the ridge of tissue just behind your upper front teeth. Keep it there through the entire exercise. 

Exhale through your mouth around your tongue, making a whoosh sound. If needed, tighten and slightly press your lips together.

Then close your mouth and inhale quietly through your nose, and count to 4 in your head.

Hold your breath for 7 seconds. 

Exhale completely through your mouth, making a whoosh sound, while counting until 8.  

This was one cycle. Repeat the same for 3 more times, for a total of 4 cycles. 
This exercise is a natural tranquilizer for the nervous system, and while it may take a bit of practice, it works great for most people.
To make the technique even more helpful, you can combine it with:
a sleeping mask

a white noise machine or relaxing music

earplugs
Can you force yourself to sleep?
Forcing yourself to sleep isn't recommended by professionals. If you really struggle to fall asleep, forcing yourself will make it worse. Instead, try this: 
A calming hobby:
Relaxing and slow activities are ideal for when you can't nod off. Great examples are – knitting, drawing, puzzling, or getting busy with color adult coloring books.
Once you find yourself getting sleepy, stop what you're doing, and go to bed.
Read something tedious:
If you read something super interesting, it is possible to have a harder time falling asleep. This is because you may get caught up in the story and read more and more.
That's why pick a bit of a boring book or a magazine. Because of the dull story, will start to feel more sleepy. 
Low impact yoga:
There are amazing short yoga flows that you can even make from your bed (make sure to not wake up your partner though!).
Some poses require stillness, and you need to perform each pose for a longer time. This may calm your body, and mind, which will aid to fall asleep faster. 
How to make yourself tired for a nap/during the day?
To make yourself tired for a nap – do not drink any stimulants in the afternoon. Allow yourself up to 2 cups of coffee, but just in the morning. 
Furthermore, you shouldn't do anything special to make yourself tired during the day. The truth is that humans are hardwired to feel a little tired in the middle of the afternoon. 
The natural circadian rhythm of most people drops between 1 and 3 pm, which results in a sleepy feeling.
The perfect moment for a nap is between 2-3 pm, and the amount of time shouldn't be more than 20 minutes.
According to Sleep Foundation, the ideal environment for a nap is when the temperature is comfortable( 60-67 degrees or 16-19 Celsius), limited light, and minimal noise. You can consider using earplugs and an eye mask.
Conclusion
Sleeping is ESSENTIAL for your well-being.
What's more, it is crucial when it comes to lucid dreaming.
If you have trouble with sleeping, it's better to first fix them, before attempting to lucid dream.
Tell me, have you tried to make yourself tired, using some of these tips? 
Share in the comments below what helps you the most, when you cannot fall asleep!