This post and the photos within it may contain affiliate links. If you purchase something through the link, I may receive a commission at no extra charge to you.
First and foremost – what is an astral projection?
Also called astral travel, it is the phenomenon of an out-of-body experience – the act of separating the spirit (also called as an astral body) from the physical body. 
It can occur naturally, as part of the sleep process, or it can be performed through different techniques.
If you want to astral project, it is best to first understand all the dangers that are coming along astral projection.
Now, I will share with you 2 astral projection guides for beginners, including some commonly asked questions:
What is astral projection?

Is astral projection dangerous? Is astral projection safe?

What are the astral projection dangers?

Can you die from an astral projection?

Is sleep paralysis related to astral projection?

How to astral project for beginners? *

2 easy techniques*

Astral projection tips (how to turn back to your psychical body, etc.

)

Astral travel: Final thoughts 
1. What is astral projection?
Astral projection is an out-of-body experience.
It is the separation of your soul, also called an "astral body", from the physical body. It allows you to travel outside and throughout the universe. 
Astral projection is the personal gateway into the realms of the consciousness exploration.
It has been practiced for thousands of years, dating back to ancient China.
You can astral travel even if you are completely new. It can happen spontaneously, of induced. 
2. Is astral projection dangerous & is it safe to astral travel?
If not induced, astral travel is a natural experience that can happen spontaneously to anyone.
It has been reported in every culture and society of the world for many many years.
It is overall safe for most people, however, for anyone who has psychological problems should avoid it.
3. What are the astral projection dangers?
Astral projection dangers are possible mostly from the psychological side, rather than anything physical impact.
1) Astral projection as a form of escapism
You may experience astral projection and enjoy it so much, that you may want to do it all the time.
Perhaps, you will use it as a form of escapism – an intended detachment and distraction from the real world.
This cannot really harm you.
However, if you reach an obsessive level, the other aspects of your life will begin to suffer.
The lack of balance can be harmful to your productivity and personal growth.
Escapism is healthy if it is used in the norms. The only thing you should be careful if you use astral projection as a form of escapism is to not let it go too far.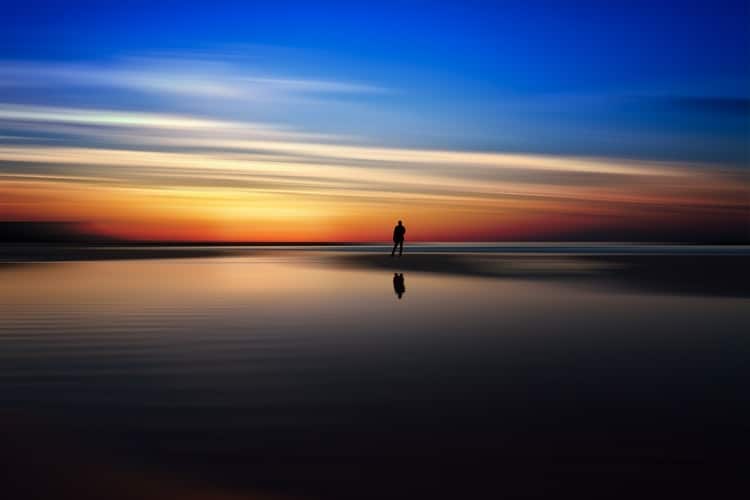 2) Exhaustion
As with lucid dreaming, it is completely probable to return from astral travel and to feel kinda exhausted.
Perhaps, physical energy exhaustion is not going to be the case, but what about mentally drained?

It is possible that if you have long, vivid and active astral projection, you would wake up tired.
3) Scary visuals
There is always a small chance of encountering something scary.
Astral travel might include either sleep paralysis or realistic and terrifying visuals, you may be convinced that what you see is real.
Even if you experience sleep paralysis and you know that is all in your head, it can be still pretty scary.
Be sure to understand completely sleep paralysis before trying to astral project.
4. Can you die from an astral projection?
You don't get a strange immunity when you having an out-of-body experience.
You can still die if you have a heart attack or some other non-related bodily failure that was going to happen anyway.
But no, you cannot die because you are astral projecting.
The truth is that it is nearly impossible to be proven on 100%.
Even if it is possible, how are we suppose to know that someone died from an OBE?
Overall, from what we know, there haven't been any reports throughout history that anyone has gone through biological death because of astral projection.
5. Is sleep paralysis related to astral projection?
Sleep paralysis occurs as a protective mechanism of our body to prevent us from acting out our dreams.
It is the feeling when you wake up and being conscious but you are unable to speak or even move.
The features of sleep paralysis vary from person to person.
Some hear vague rustling and creepy sounds, indefinite voices, and demonic chatter, while others see hallucinations supernatural creatures, human figures, etc.
You can take advantage of the sleep paralysis and you can use it in order to leave your body and explore the astral place!
The truth is that sleep paralysis is really the ideal time to try astral projection.
Fact:
dividing your spirit from your physical body doesn't sound easy, and it is not.
Luckily, when your body is unable to move, because of the sleep paralysis, it is relatively easy and a great opportunity to try to separate the soul from the body.
6. How to astral project: 2  beginners guides
Astral projection actually is not that difficult. However, it is certainly a skill that can't be learned overnight.
You will need to practice it and to be determined to learn it.
Take into consideration the following:
The levels of natural ability will vary – from some, it might be easier and faster, for others, it may take up to months.

Different factors might help or inhibit a projection from happening

Be sure to follow the basics and stick to them for at least 2-3 weeks!

When trying a technique, try to stick to it for at least 2 weeks, and then if you don't see any result, try with another one.
There are different types of techniques, relying on visualization or creativity or others that are more technical.
We are going to go through 2 astral projection techniques for beginners.
One of them including visualization, and another that is more technical.
1: Astral projection guide: Early Morning Method by William Buhlman
William Buhlman is an out-of-body veteran, author, and teacher. 
Step 1: Pick a time in advance
Decide on what time you are going to experience an OBE, and several hours before the chosen time, keep reminding to yourself of the focused goal.
Step 2: Set an alarm
Put an alarm, that should wake you up approximately 4 hours after you are asleep.
Step 3: Relax and go to sleep
When you go to sleep, relax and keep repeating your intention to have a fully conscious OBE.
Affirmations are very important for that technique, so don't overestimate them.
Tip: A good idea is to meditate, while still keeping the intention in your mind
Step 4: Wake up after 4 hours
After waking up, get up for around 15 minutes and lay comfortably ON YOUR SOFA (or a place, which is not your bed!).
Lay down, close your eyes and relax. This is when the real thing starts.
Almost all of the astral projection techniques are starting with complete relaxation of both your mind and body.
It is quite an important step for experiencing an OBE.
So, relax your mind and all of your muscles. Meditation and breathing are very important for astral traveling.
Step 6: Focus on the intention
Focus your full conscious awareness away from your body.
While laying, focus your mind on the intention to have an out of body experience.
Keep repeating the aim, silently in your mind. (for example, "I will experience astral projection")
Select a physical object around you, such as the door in your room. Try to imagine yourself walking around your home.
Simply and clearly imagine how your body is walking in the other room, observing objects, etc.
Train yourself to enhance your state of consciousness. It is very important to be fully aware and focused on the goal.
Hold this vision and don't forget to repeat the focused aim "Now I am going to have an out of body experience".
Hold this goal as your last conscious thought as you drift off.
2: The Rope technique by Steve G. Jones
It is a great approach for people who are attending to experience an astral projection but who feel they are having difficulty in imagining and visualizing.
Step 1: Relax!
Simply lay down, preferably before going to sleep, when it is complete darkness, close your eyes and relax.
Take deep breaths, in and out. If you practiced meditation, simply do that.
Empty your mind, and focus on your breathing.
Step 2: Hypnagogic state (half-asleep half-awake)
After feeling fully relaxed, you should enter the hypnagogic state.
It is a phase, where your mind is at the edge of sleep and wakefulness.
It is while your eyes are still closed and usually includes having colorful visualizations, random speckles or patterns.
Try to focus on an object that you see – stare at it until you can see it perfectly.
Try to increase the relaxation state. Still, be focused on the chosen from you object.
If you miss it, don't worry, just find a new one and focus on it again.
Step 3: Deepen your state of relaxation
After a while, the patterns and visuals should go. Simply stop paying attention, which will make them disappear.
Once they are away, you have entered the deeper state of relaxation.
Now, you should be so relaxed that you are no longer aware of your physical body.
Step 4: The vibration state
This is one of the most essential steps.
A lot of people are getting scared here and overwhelmed, but you should know that if you feel them, that is a sign that you are on the right way!
The state of vibration takes different time for everyone, and if you are new, it may be a bit longer.
Your real, psychical body won't be moving, even if you feel it does.
The vibrations indicate that your astral body started leaving your physical body.
Simply accept this and observe the vibrations. Focus on them as they move throughout your body.
By practicing OBEs, you will be able to control the vibrations, to change the frequency, to increase or decrease them.
If it is one of your first times, just examine them and use your willpower in order to command them.
Once you master this, you will be able to use them when needed.
Step 5: Visualize the rope
Here is another part, where you need to use your control and willpower.
Imagine that there is a long rope hanging right above you.
Let your "Astral hands" grab the rope and pull up your body. Just climb the rope but do all this in your imagination.
Don't open your eyes, and make sure that you are completely focused on climbing the rope.
You should feel quite alert and "awakened" (not in reality, though).
Slowly place a hand over hand on the rope as if you were pulling yourself up.
Often, you might begin to feel dizzy, but don't worry! That is a sign which means you are projecting properly.
The dizziness is the astral body loosening from your body.
Sometimes, people here feel paralyzed or withdrawn back into their physical bodies, but that is when they are not focused entirely on the goal.
You should completely concentrate on climbing the rope.
Don't stop until you feel your entire self-separating from your body.
That's it! Now you should be able to hover around your physical body!
The rope technique gives you experience with the mental action needed to astral project.
Here are a few tips to take into consideration:
1) It is the moment of releasing out of your physical body, and you should try to focus on the feelings of dizziness.
It is a feeling you must learn to control.
2) You might feel some weight right before a trance.
You might think that you experience sleep paralysis, and that is very likely to happen.
However, another possibility is that your chakras will open up.
After that, you might feel elevated energy and your body will continue to feel very heavy.
3) Be ready that your body will feel a mixture of sensations, but do not let them confuse or distract you.
7. Astral projection tips
1) Prepare for sleep paralysis
Often, sleep paralysis comes hand by hand with an out of body experience.
So, you want to understand completely WHAT is sleep paralysis and what to expect from it.
It sounds terrifying, and it MIGHT be. But it depends all on you.
If you know how to end it and transfer it into an OBE, then it won't be at all too long or scary.
Find out what causes sleep paralysis, and much more information HERE:
2) Fully understand astral travel or don't do it
Try to Astral Project if you read enough about it and if you know it altogether.
It is better NOT to try it, if:
not quite sure what are you doing

if you have any doubts or fears
… At least not until the point you are comfortable with it.
If you feel that you are still not ready to experience it, or some parts are unclear, make sure to figure them out before attempting it.
3) Coming back to your body
It's not the best idea to learn how to the astral project if you don't know how to get back to your psychical body!
The good news is that you don't need to do much in order to return to your physical body!
FIRST WAY:
For both of the techniques, whenever you feel like you want to return to your body, simply think of your body.
Turn your awareness to the fact that you want to get back to your body.
It shouldn't be a hard task.
The truth is that a lot of times when people are experiencing OBE, even if they accidentally think of their bodies or they lose focus, they simply turn back to their bodies.
SECOND WAY:
Pull on your "silver cord".
A silver cord connects your physical body to your astral body. You may or may not be able to see it, but it is always there.
It is attaching you to your physical body, and it cannot be broken.
So, taking in consideration that your astral body connects to your physical body via the 'silver cord,' this ensures you never lose contact with your physical body and can always return.
If you want to get back to your physical body, follow the cord back or think about opening your physical eyes, and this will 'snap you back' to physical reality.
4) Mindset
In order to develop a proper projection, it is important to have 'quality' emotion.
So, your mindset is most essential if you want to succeed.
Be sure that you are full of positive emotions, curiosity, self-motivation and you have a strong desire.
You must free yourself self-doubt, anger, fear or any other negative emotion.
If you don't, that might stop you from experiencing astral projection, or it can simply turn the experience into something quite unpleasant.
5) How long should a technique take?
Approximately, a technique should take between 30 minutes and 1 hour.
That time will allow the practitioner to have enough time to apply the steps the technique offer and at the same time, wait for the results to take place.
6) Is astral projection real?
This one is tricky.
Even though astral projection is not proven scientifically, we can not say for sure. 
Furthermore, we cannot disregard the amazing experiences, and benefits, that astral projection holds.
If you are curious to find out more about that, check out THIS article, where Iooked the facts in details.
Astral travel: Final thoughts
The truth is that whether you believe in astral projection or not, it happens.
When comparing it with lucid dreaming, the result is similar; they both end up in waking your mind while your physical body is asleep.
Choose a good technique and apply it at least 15 times for the period of 1 month.
You may experience it on the 2nd try, however, if you may need more time.
Don't get demotivated, but simply try to find more about it, what you can improve, or what you may do wrong.
Comment below in the comment section which of the guides you are going to try and how did it go!