This post and the photos within it may contain affiliate links. If you purchase something through the link, I may receive a commission at no extra charge to you.
We can all agree that Sleep Paralysis could be pretty scary…
IF you do not know what exactly it is and how to react when you are going through it.
That is why we want to give you some valuable information, in order for you to avoid unpleasant experiences!
In this article, we are going to talk about:
What exactly is Sleep Paralysis

Why does it happen

When does it happen

Who can experience it

What you should do when you experience this condition

How to turn it into a LUCID DREAM!
1. What is Sleep paralysis?
Sleep paralysis is the feeling of being conscious but unable to move. 
Usually it is happening naturally, however, there is a way to induce it.
You may wonder why someone would want to experience Sleep paralysis?
The reason is that we are able to turn the sleep paralysis into a lucid dream.
In the last section, we will explain more about it, so keep reading! 🙂  
During the Sleep paralysis state, people are unable to move, speak, or anything.
It feels like a real paralysis.
Furthermore, it can last for a few seconds up to a couple of minutes.
You may feel it longer, even if is only for some seconds.
Another important fact: when we sleep our muscles are in relaxation.
This state is called "atonia" and it is actually an essential part of healthy sleep! 
It is also possible to experience atonia even while you are awake – you may be unable to move for a few seconds.
Simply stated, electrical nerve impulses are cut off from the muscles and the brain, that is what is making us unable to move. 
Usually, when you wake up from sleep naturally, you are waking up directly from a dream – whether recalled or not.
Along with this awakening, the paralysis of REM-sleep is supposed to end, but sometimes it doesn't. 
But wait for a second… 
What is REM-sleep?
REM comes from Rapid Eye Movement. During the night we are going through 4 non-REM stages. After that, we enter the REM sleep.
REM sleep lasts around 10 minutes and during this period, our brains activity increases, our pulse quickens, and we have vivid dreams. 
REM stages typically get longer and longer as the night goes by.
Now, we can go back to Sleep paralysis…
2. Why does it happen?
During rapid eye movement (REM sleep) the brain has vivid dreams, while the muscles of the body are essentially turned off.
While sleeping, the muscles are unable to move so that the person won't be able to act out dreams with their body.
Sleep paralysis happens when a person wakes up before REM is finished.
The person will be conscious, but the body's ability to move hasn't been turned back on yet. 
3. When does it happen?
Sleep paralysis can appear either when we are waking up or falling asleep. 
During Sleep Paralysis we may hear, feel, or see things that are not there.
It is often accompanied by scary noises, a frightening presence in the room, the feeling of being held down, difficulties to breath etc. 
Because Sleep Paralysis is connected with a highly active dream generation system, that won't shut off even after awakening – we would "transfer" strong dream material into our awaken state.
5. How to react when you have this condition? and How to get out of it?

Sleep Paralysis can be very scary, especially if you don't know what is going on… 
The thing is that you should not freak out.
And that could be not the easiest task, since like we mentioned – it can be pretty creepy.
However, you can use some of these ideas in order to avoid the Sleep paralysis:
1) Repeat in your head "It is only a dream", " I am safe ", etc.
2) Try to move a small part of your body, for instance, your toes, fingers, eyes, lips, etc.
Why can the movement help?
It will simply send signals to your brain and signalize that your body is awake.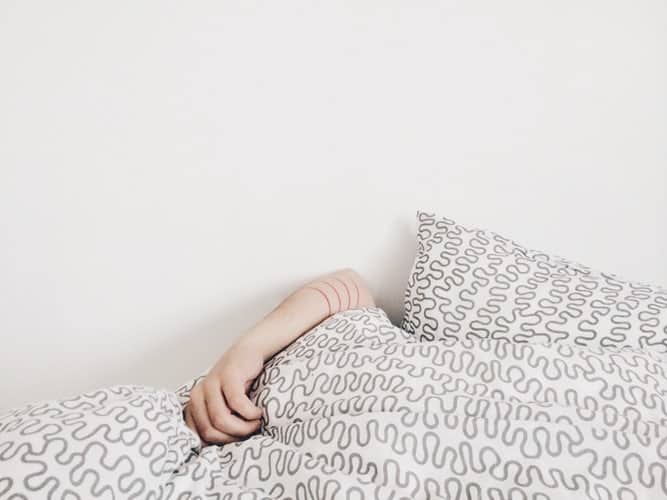 3) Relax your body as much as you can, for instance, you can focus on your breath and start breathing ( just like meditation – slowly and deeply )
 It could be hard, since during the Sleep paralysis you may have difficulties to breathe, a feeling of something heavy in your lungs.
But if you focus on this, and not on the things you think you are seeing (scary shadows or evil presence), you can switch off the paralysis.
Afterward, when your brain receives the information that you are not sleeping anymore, the atonia will stop, whereafter you will be able to move and the visuals and hallucinations will disappear right away.
And now let's talk little about …
6. How to turn sleep paralysis into a lucid dream?
Sleep paralysis can appear naturally or you can induce it.

Either way, you should not try to push the paralysis away, since, in order to step into the lucid dreaming state, you should go through it.
It is kind of the "door" to enter into the conscious dream state.
If it is happening naturally you should:
1) RELAX! This is super important.
You should calm down by convincing yourself "This is only a dream", "I am having a Sleep paralysis", "I can go anywhere".
How would you know that you are going through it?
Simply by the fact that you cannot move. And of course by the abnormal scenario that is around you.
2) Visualize a happy place
Imagine a location that is your favorite or just a random one, that you would like to visit. 
Here, you should try to imagine as many details as you can.
For instance, what is the weather like, are you going to be alone or with someone, is it day or night and so on. 
3) Try to have positive thoughts.
 It may sound easy but even when we are awake, sometimes it is not the easiest task.
However, you should try to do it.
You need to stop thinking about the things that you are seeing and to ignore the paralysis. Just focus on what is the next – incredible lucid dream!
Tip 1: 
If you want to induce the Sleep paralysis in order to get to the conscious dreaming, a simple way is to use the WILD technique
(if you haven't heard of it, or you want to remind yourself how to use it, check out our article with step-by-step guidance HERE)
Tip 2:
You can also try to have an OUT OF BODY EXPERIENCE!
This one is very fascinating too, and the truth is that Sleep paralysis is the perfect condition for experiencing OBEs.
Find out more about it HERE.
To make a point…
These are just a few ways that can help you to either stop the paralysis or transfer it into a lucid dream.
If you want to find out is Sleep paralysis dangerous and CAN YOU die from it (?), check out our new article HERE.
Furthermore, as if that is not enough and you would like to find out, even more, you should check these books: 
by Louis Proud
In DARK INTRUSIONS, the author gives a well-supported explanation for the phenomena of sleep paralysis.
Despite being a controversial subject, the author thoroughly explores each point with honesty and transparency.
by Ryan Hurd
A practical book on the phenomenon of sleep paralysis and the other odd situations that frequently occur along.
The author dedicated a big part of his life, learning about sleep paralysis as much as possible.
He wrote this book to pass that knowledge along to the rest of us.
I highly recommend this book to anyone suffering from (or just experiencing) sleep paralysis.
by Chris White 
The author does an excellent job of combining a lot of research, interviews, experiences, and observations into a compact, educational, smooth read.
Once you finish the book, you will feel both educated and empowered.
The information and advice provided in the book are amazingly accurate and helpful for anyone, experiencing the phenomenon.